2dots Space is an independent creative agency founded by Aaron Yeboah Jr. Delivering carefully engineered innovative projects through visual design and functionality. Beyond visual aesthetics, the core DNA of our work is innovation, growth, having the responsibility to find solutions to problems and making life better. 
Branding
Visual Identity
Development & Research
Strategy & Placement
Brand campaigns
Print Design
Stationery & promotional
Signage & environment
Packaging
Books & Printed Materials
Editorial design & layouts
Digital
App Development
Website design & build
Graphic Design
Type Design
Consultancy
Creative Direction
Art Direction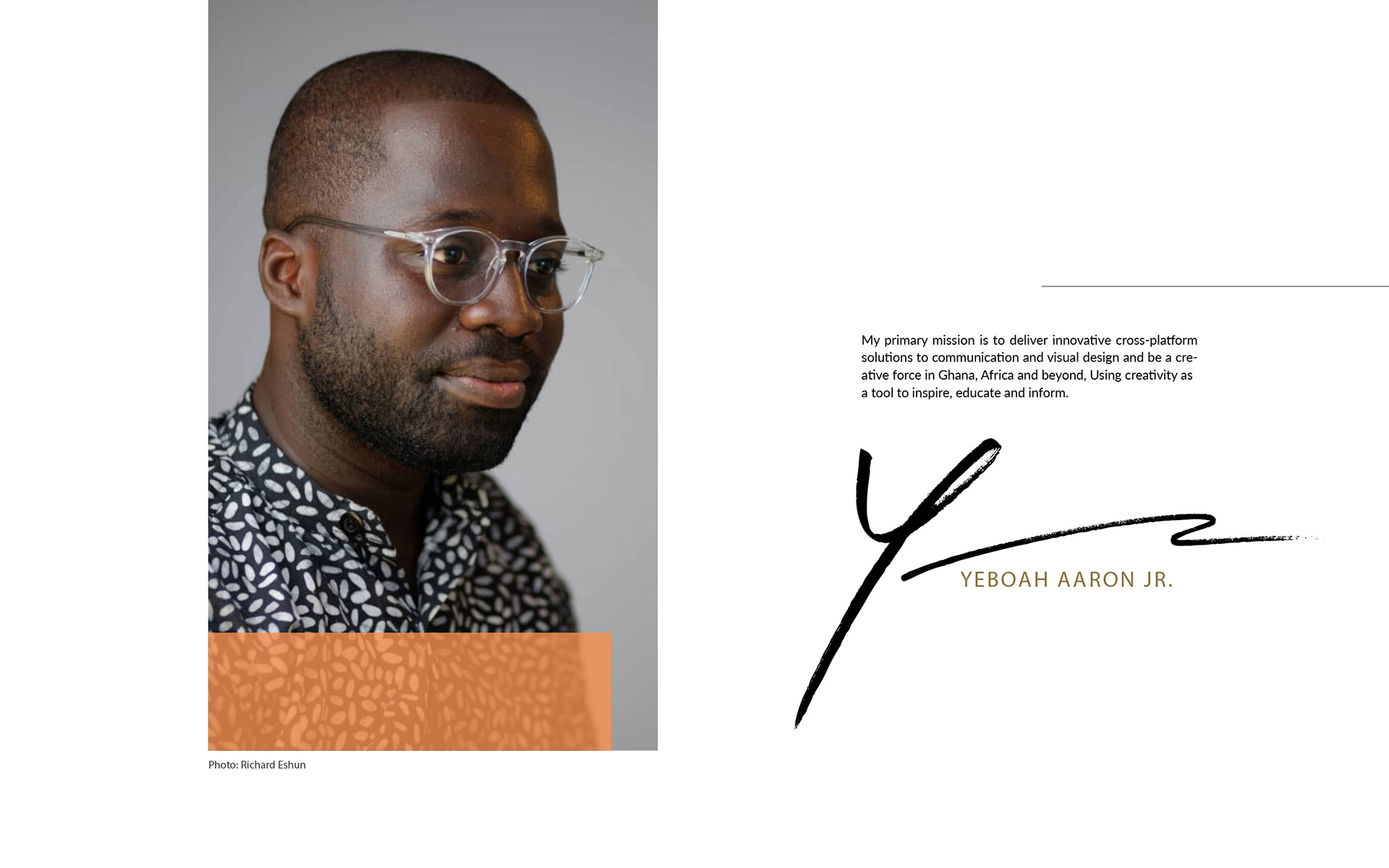 Aaron Yeboah Jr. is a Ghanaian designer and creative director currently living and working in Accra, Ghana. Since 2010, Yeboah has constantly being embarking on projects and endeavors that pushes creative boundaries especially in Africa. Using design as a tool to inspire, educate and inform, Yeboah's primary mission is to deliver innovative cross-platform solutions to communication and visual design and be a creative force in Ghana, Africa and beyond. 
In 2012, Yeboah launched
African Lens
, a publication featuring and celebrating African Photographers. The publication has released 4 volumes and exhibited photography works in Ghana and South Africa so far.
We Are Africa Conference
(Cape Town, South Africa 2016)
Creative Nestlings - Travel Talk
(Johannesburg, South Africa 2016)
Behance Portfolio Review 
(Accra - 2017)
Ghana Design Network - Designers Meet 
(Accra 2017)
Ghana Must Go - Nubuke Foundation
(Accra 2017)

Radford University - Final Year Student Review)
(Accra 2018)

Creative Review 2016
WIRED Japan magazine 2017 
Creative Nestlings - What It Takes Book 2018